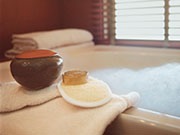 From a customer: I heard that there are health benefits soaking in a tub of hot water containing dissolved epsom salt. Could I obtain similar results using organic sulfur?
Taking a bath in either epsom salt (magnesium sulfate) or organic sulfur draws toxins out of the body. You have to experiment to determine how much sulfur to add to the water. Start with a small amount, like one or two teaspoons.
Send your organic sulfur questions by filling out the form on the Contact Us page.
Any benefit soaking in tub of organic sulfur?
Organic Sulfur For Health
Average rating:
0 reviews