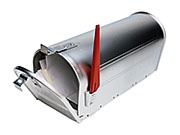 From today's mail bag: To what extent does taking organic sulfur mitigate exposure to weed sprays like Roundup Ready or chemtrail poisons in our air?
Take a look at a periodic table: Glyphosate, the active ingredient in Roundup Ready, is a complex compound consisting of carbon, hydrogen, oxygen, nitrogen, and phosphorus molecules. Sulfur is an antagonist of phosphorus and can convert the elements or synthetic variations of elements found in Roundup into harmless sulfates. In total, there are 146 compounds and 92 elements (including gold and platinum) which can be sulfated out of the body. Sulfur breaks down calcium carbonate, which is why arthritis is no longer a health issue among Study members. With regards to heavy metals and toxins in our air and water, sulfur combines with aluminum to form aluminum sulfate and with barium to form barium sulfate. The one element that doesn't sulfate is iodine.
Send your organic sulfur questions by filling out the form on the Contact Us page.
How does organic sulfur prevent harm from weed sprays and air pollution?
Organic Sulfur For Health
Average rating:
0 reviews